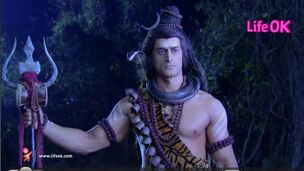 Daksh
is angry at Sati's acts and decides to punish her death but
Prasuti
begs Daksh to forgive her.
Lord Shiva
is requested by all his devotees who witnessed Chandrama's coming back to life and getting adorned on His forehead that He be there for the night so that they could worship him.
Sati
is dejected because Mahadev ignored her and shares her sadness with
Madanike
. Madanike consoles her, and goes to the meditaing Mahadev and prays requesting Him to meet Sati. Mahadev meets Sati on the auspicious night of Maha Shivratri.
Previous Episode: 58
Next Episode: 60