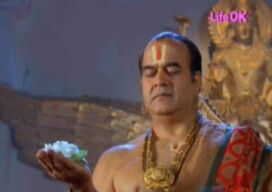 Nandi
is creating a small temple for
Lord Shiva
and
Sati
, but Mahadev burns it in anger.
Revati
tells
Prajapati Daksh
that she does not wish to go to Chandralok. She informs Daksh that
Chandrama
has decided to call off their relationship. Daksh instructs Chandrama to consider Revati as his wife and give her all the rights. On Chandrama's denial, Daksh's already fuming misconceived anger against his son-in-law erupts fully and decides to punish him. He curses him to remain lifeless. Chandrama's parents get worried after getting a bad signal.
Narad Muni
continues to instigate Mahadev against Prajapati Daksh. Mahadev's anger increases.
Previous Episode: 52
Next Episode: 54