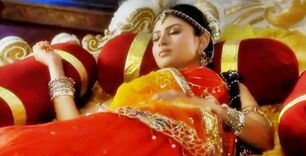 Prajapati Daksh
demands to know from raag-ragini's who played Lord Shiva's music on which
Sati
and
Mahadev danced
. He comes to know that it was
Chandrama
who had allowed to play Mahadev's music and decides to punish him,but
Prasuti
tells Daksh that the actual culprit for making Sati fall for Mahadev is
Madanike
. Meanwhile in Sati's room rishi
Kashyap
comes to know something intense about Sati's health and asks Daksh to come there.
Previous Episode: 44
Next Episode: 46
Ad blocker interference detected!
Wikia is a free-to-use site that makes money from advertising. We have a modified experience for viewers using ad blockers

Wikia is not accessible if you've made further modifications. Remove the custom ad blocker rule(s) and the page will load as expected.