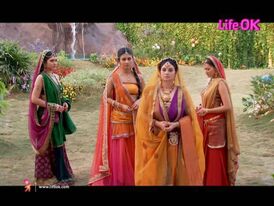 Khyati and Aditi try to help Sati fulfill the arduous punishment given by Daksh. But, Sati is adamant that she would face the difficulties coming in her way all alone. Sati, with her two maids, Jaya and Niyati set out in search lotuses. In the courtroom, the sculptor community assembles to seek for an apology from Daksh. But, an arrogant Daksh dispels the entire community from his kingdom. Rishi Dadhichi enters the courtroom with his disciples.
Previous Episode: 3
Next Episode: 5
Synopsis
Edit
Khyati is collecting Lotus flowers for Sati, she tells Sati to start writing Vishnuji's name on it, but Sati says this is my prayaschitta, all the work related to it will be done by me. Aditi says you are thinking only about you not others. Sati says Daksha will not like if anyone helps her with this.
Prasuti comes there says Sati is right, since she has made up her mind, she will be able to do it.
She sends two dasis with Sati & tells her to go & fulfill her sankalpa. Sati leaves from there, Prasuti prays to God to take care of her.
Sati goes in jungle in search of Lotus flowers, near a pond, there are very few flowers.
Aditi is regreting making Sati's work more difficult because she's collected all the Lotus flowers from nearby area. Now Sati will have to go quite far to get the them.
Sati in a Jungle comes near a pond, where there are no flowers. Her dasi says all the flowers are taken to their bhavan. They tell her to return back, as it was getting late, but Sati sends them back & moves ahead in search of flowers.
In Daksha's sabha all the people except the shilpkaar are present along with their leader, who is father of that shilpakar.
Daksha gets angry seeing that the shilpakar is not present, asking why he hasn't come. His father says he has gone to Gandharva loka, he regrets saying whatever had happened was unintentional. Daksh says he has not spared his daughter. Even you all will not be spared, you all will have to bear the punishment. He declares their community will be not will get any support from anybody, they will have to leave this place. Their head pleads but Daksha doesn't listen.
Disheartened shilpakar community people are leaving the sabhaa, they stop hearing the sound of Damaru. Maharshi Dadhichi with his disciples are standing there.