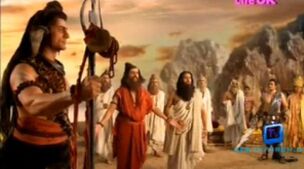 Outraged with Daksh's ignominy towards
Lord Shiva
,
Rishi Kashyap
condemns Prajapati's regretful approach. Apathetic towards Rishi Kashyap's complains,
Daksh
declares his detest towards Mahadev being a vairagi. Determined to punish anyone who surpasses the rules made by him, Daksh curses that Mahadev would not be worshipped anymore by anyone. Criticising Mahadev of his ascetic principles, Daksh insults him saying that he has no place in his kingdom for someone who is an unorthodox hermit.
Previous Episode: 37
Next Episode: 39
Ad blocker interference detected!
Wikia is a free-to-use site that makes money from advertising. We have a modified experience for viewers using ad blockers

Wikia is not accessible if you've made further modifications. Remove the custom ad blocker rule(s) and the page will load as expected.