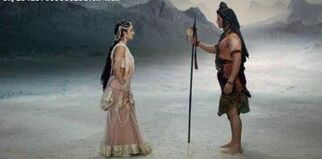 Turning stone-hearted towards Sati's feelings,
Lord Shiva
dispels
Sati
from Kailash. Furious seeing Sati's attraction towards him, Mahadev admonishes her love calling it a fortuity. Broken-hearted with Mahadev's disdain, Sati returns back teary eyed, lost in her thoughts.
Prasuti
narrates the story of Shaligram and Tulsi's marriage to her daughters. Assuming Shiva's support to be with the Gods, an infuriated
Shukracharya
prepares his army for the war.
Daksh
states that the reason for preparation of special place for Mahadev in the Mahamandal can be known after Mahadev joins the meeting.
Madanike
approaches Sati to know the reason for her grief, Sati mentions that she has met Mahadev again.
Previous Episode: 35
Next Episode: 37
Ad blocker interference detected!
Wikia is a free-to-use site that makes money from advertising. We have a modified experience for viewers using ad blockers

Wikia is not accessible if you've made further modifications. Remove the custom ad blocker rule(s) and the page will load as expected.