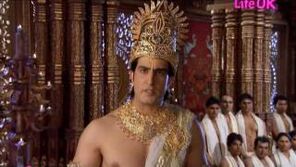 Corroborating immense faith in
Lord Vishnu
,
Daksh
assures to protect the Gods from the attack of the asuras. Commencing the third phase of the Mahamandal, Daksh instills his faith in Chandrama to handle the Spring Festival without any hitch.
Nandi
is too distressed after
Lord Shiva
snapped at him for mentioning
Sati
's name and getting influenced by Narad Muni's gossip. The spring festival embarks with a melodious and a colourful performance by
Chandrama
and
Rohini
.
Previous Episode: 25
Next Episode: 27
Ad blocker interference detected!
Wikia is a free-to-use site that makes money from advertising. We have a modified experience for viewers using ad blockers

Wikia is not accessible if you've made further modifications. Remove the custom ad blocker rule(s) and the page will load as expected.