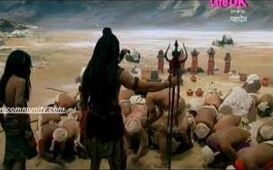 With arrogance taken over Prajapati Daksh, he challenges Lord Shiva power to stop him from demolishing Shiva's name, his ideology and his existence. A distressed Nandi comes running to Mahadev informing him about Daksh out-casting the descendants of the Lord Vishwakarma. Huddled together, the sculptor community is diffident about coming to Kailash. But, all their apprehensions disappear as Lord Shiva himself welcomes them to Kailash and proposes to have food with them.A question asked by the sculptor's head about Devi Sati to Lord Shiva leaves Shiva speechless.
Previous Episode: 16
Next Episode: 18
Ad blocker interference detected!
Wikia is a free-to-use site that makes money from advertising. We have a modified experience for viewers using ad blockers

Wikia is not accessible if you've made further modifications. Remove the custom ad blocker rule(s) and the page will load as expected.