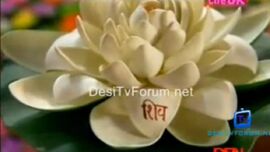 Sati's deteriorating condition and her obstinate attitude towards fulfilling her punishment becomes a concern for Prasuti.She urges Daksh to look at Sati's state. Prasuti retorts to Daksh's unsympathetic attitude towards Sati questioning him about his duties of as a king being greater than of a father. On Prasuti's request, Daksh decides to relieve Sati of the elusiveness of the punishment, but Sati informs him about fulfilling the task given to her.An elated Daksh boasts of being a proud father saying that he knew that Sati would never let down his principles. The world comes crashing for Daksh as he spots Lord Shiva's name written on the lotuses.
Previous Episode: 10
Next Episode: 12
Ad blocker interference detected!
Wikia is a free-to-use site that makes money from advertising. We have a modified experience for viewers using ad blockers

Wikia is not accessible if you've made further modifications. Remove the custom ad blocker rule(s) and the page will load as expected.